I am very much interested to read and learn about common and ordinary people who make a difference. Those unsung heroes who sacrifice to help other unfortunate people.
We have a lot of these good men and women among our own friends and in our communities. Some times we never realise about their good deeds and most of the times, our media will skip them over for more flattering news on politicians (of ruling parties though corrupt) and artists.
This year CNN Hero of The Year is Liz McCartney, 35. She dedicated to helping New Orleans Katrina survivors rebuild and move back into their homes.
I had spent good five days in New Orleans and enjoyed the city jazzy atmosphere. I stayed along the famous Bourbon street and French Quarter. Had toured the rest of Louisiana, including cruising along Mississippi River.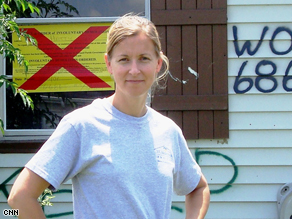 Liz McCartney, St. Bernard Parish, Louisiana: McCartney moved to New Orleans to dedicate herself to helping Hurricane Katrina survivors move back into their homes. Her nonprofit, St. Bernard Project, has rebuilt the homes of more than 120 families for free.
In alphabetical order, the top other CNN Heroes of 2008 as chosen by the blue-ribbon panel are:
Tad Agoglia, Houston, Texas: Agoglia's First Response Team provides immediate help to areas hit by natural disasters. In a little over a year, he and his crew have helped thousands of victims at more than 15 sites across the United States, free of charge.
Yohannes Gebregeorgis, Addis Ababa, Ethiopia: Moved by the lack of children's books and literacy in his native Ethiopia, Gebregeorgis established Ethiopia Reads, bringing free public libraries and literacy programs to thousands of Ethiopian children.
Carolyn LeCroy, Norfolk, Virginia: After serving time in prison, LeCroy started the Messages Project to help children stay connected with their incarcerated parents. She and volunteer camera crews have taped roughly 3,000 messages from inmates to their children.
Anne Mahlum, Philadelphia, Pennsylvania: On her daily morning jogs, Mahlum used to run past homeless men. Today, she's helping to transform lives by running with them, and others as part of her Back On My Feet program.
Phymean Noun, Toronto, Ontario: Growing up in Cambodia, Noun struggled to complete high school. Today, she offers hundreds of Cambodian children who work in Phnom Penh's trash dump a way out through free schooling and job training.
David Puckett, Savannah, Georgia: Puckett started PIPO Missions to bring ongoing prosthetic and orthotic care to those in need. Since November 2000, he has helped more than 420 people in southeastern Mexico, free of charge.
Maria Ruiz, El Paso, Texas: Several times a week, Ruiz crosses the border into Juarez, Mexico, bringing food, clothing and toys to hundreds of impoverished children and their families.
Marie Da Silva, Los Angeles, California: Having lost 14 family members to AIDS, the nanny funds a school in her native Malawi, where half a million children have been orphaned by the disease.
Viola Vaughn, Kaolack, Senegal: The Detroit, Michigan, native moved to Senegal to retire. Instead, a group of failing schoolchildren asked her to help them pass their classes. Today, her 10,000 Girls program is helping hundreds of girls succeed in school and run their own businesses