Ini mungkin sesuatu yang mustahil untuk berlaku di Malaysia mahupun Asia. Sesuatu yang tidak terfikirkan. Penyair diberi hadiah jutaan ringgit sebagai pemenang.
Media Arab melapurkan seramai 48 penyair dari seluruh dunia Arab yang telah terpilih akan bertarung dalam pertandingan akhir
'Poet of Millions'
musim kedua yang akan bermula pada 11 Disember ini. Pertandingan ala-American Idol ini menawarkan pemenang sebanyak AED5 juta dimana hadiah bernilai sebanyak AED22 juta telah disediakan.
Mereka berjaya menewaskan 16,00o penyair yang menyertai audisyen dan 100 orang disenarai pendekkan. 52 dari 100 orang penyair ini di singkirkan sebelum pertanding akhir. Seramai 70 juta menonton setiap minggu
Pertandingan dalam bentuk syair Nabati Arab ini dianjurkan oleh Lembaga Warisan dan Budaya Abu Dhabi dibawah naungan General Shaikh Mohammad Bin Zayed Al Nahyan, Putera Mahkota Abu Dhabi. TV Abu Dhabi akan menyiarkan secara langsung.
Pertandingan kesusasteraan yang berwibawa ini baru musim kedua tetapi telah berjaya mengubah keseluruhan lanskap aktiviti penyairan dunia Arab seluruh dunia. Pemenang akan dipilih oleh lima hakim.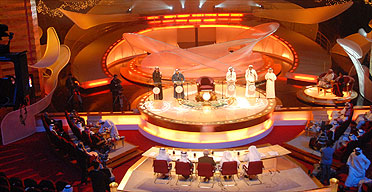 Mungkin kerana hadiah yang begitu lumayan menarik minat ramai penyair serta penonton dan sekaligus meletakkan syair ke taraf gemilang!
Lapuran dari Times London.

It is Tuesday night and in a large theatre on the outskirts of Abu Dhabi the recording of Million's Poet, the most popular prime-time show in the Middle East, is about to begin.

With its catchy theme song, coloured lights and giant video screens, the show bears a striking resemblance to Pop Idol. But in the deeply conservative United Arab Emirates, the studio audience is segregated according to sex, the judges hold doctorates and the hostess wears a hot-pink abaya.
Most of the contestants in Million's Poet come from poor Beduin villages, where the ancient art of Nabati poetry is dying. Similar to an ode and recited in colloquial Arabic, the form dates back to 4th-century Arabia, where poets were revered as messengers, inspired by God, who elevated their tribe's sense of pride.
Tonight they perform for a live television audience and 70 million viewers across the Arab world, competing for a cash prize of one million dirhams (about £140,000).
"I thought nobody cared about poetry, but this show changed everything. It made people think about poets more than football," said Mahdi al-Wayli, a 33-year-old electrician who won a place in the final reciting poems inspired by a double divorce.
The show's creator is Nasha alRuwaini, an Egyptian-born television producer who was asked two years ago by the Crown Prince to resuscitate Nabati poetry on television. The strategy is part of a £40 billion push to transform Abu Dhabi into the cultural capital of the Middle East.
But some objected to Ms alRuwaini's idea of adding some flash to an ancient Arab art.
"We were fighting like cats and dogs all the time because there was a feeling that it would be demeaning to the poets to put lighting and music and everything around him," Ms alRuwaini recalled. "They said: 'this looks like a disco'.
Then the ratings came in.
This season nearly 7,000 hopefuls from across the Arab world - including a few women - were auditioned for a place among the 48 contestants, with the television audience choosing the ultimate winner by text message.
A five-judge panel scores each contestant according to set criteria, such as use of novel language, difficulty in rhyme, and passion. The show is divided into two parts. In the first half, contestants recite free verse. In the second segment, judges give them a subject for inspiration. Recent topics have included camels, coffee and respect for one's parents.
Criticism is rare, and always punctuated with "God bless you". Still, last season a poet fainted after the panel gave him a lukewarm review.
As the show's popularity grows, so does its controversy. Some critics accuse it of encouraging tribalism. Others object to the topics, which have recently touched on the war in Iraq ("America comes and wages war on my neighbours and I forgive, I see my brothers in Abu Ghraib naked and killed and I forgive"). Low wages in Saudi Arabia were also addressed ("We need more money, We can't drink oil.").
The producers say the show is uncensored. Hadi al-Mansouri, one of the presenters, expressed it in verse: "The people who ask about me, please try not to hear me, because political poetry has today become forbidden. I know that I am a poet where nothing stops me, sometimes I feel I am about to crack and become crazy."
On this night, Mr al-Wayli advances to the next round with a poem about the ironies of tolerance in a region ravaged by war.
"Islam, you order us to forgive, America comes and wages war on my neighbours and I forgive," he recited.
It strikes him that the only greater irony is that somewhere in Saudi Arabia, his Beduin tribe is cheering him on, finding their past on prime-time TV.

Respect For Your Parents
A child asks his father: "O father, where are you going? Please tell me why you're pulling my grandfather on his bed instead of him using his cane?"
He replied: "I'm throwing away your grandfather in the sea, there is no place for him here any more. What do you want?"
The boy says: "I want his blanket, so that when tomorrow comes and you grow old and come under my shadow I can wrap you with it and throwyou along with him."
Know people, that God blesses and will be pleased to those who are always willing to serve and help their parents, for as much as they are pleased with you; so too will he be

Muhammad al-Manhali