Ismail bin Abdul Rahman's graduation from the University of Melbourne sparked a cultural shift that contributed to the end of the White Australia Policy
When Ismail bin Abdul Rahman (MBBS, 1945), the first graduate of the University of Melbourne from Malaya, arrived in Australia in 1940, he did so with considerable uncertainty.
His memoirs detail his adjustment to a foreign culture, but also the enjoyment of participating in events at his residential Queen's College and studying for his medical degree. The outbreak of the Pacific War and the invasion of his home country created additional anxieties. Ismail bin Abdul Rahman's experience as an international student was to be profound, fostering a self-resilience and drive that underpinned his outstanding career in medicine and politics on his return.
Tud Dr
Today, one-third of students at the University of Melbourne are from overseas, including an increasing number with Malaysian citizenship.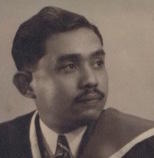 Australia has also transformed into a culturally diverse nation in ways that were unimaginable in the 1940s. But it is not well-known that the presence of international students at the University of Melbourne, and their interactions with local students, contributed to the breakdown of the White Australia Policy and strengthened Australia's ties with the Asian-Pacific region.

This is an important story in the history of the University's international connections and worth retelling.

In the immediate post-war years, increasing numbers of international students from Asian countries arrived in Australia. By 1950 there were 214, half of whom were from Malaya or Singapore. This was a time when the Australian Government defended immigration restriction on racial grounds under the White Australia Policy.

But there was an increasing recognition of Australia's economic and cultural position in the Asia-Pacific region. Prime Minister Robert Menzies acknowledged these connections, helping to establish the Colombo Plan for Economic Development in South and Southeast Asia in 1951.

The Colombo Plan offered scholarships to Asian students and many more students privately funded their Australian tertiary education. By the early 1950s, Australian universities were enrolling 3-4,000 students from Asia annually, mostly from Indonesia and Malaya.

Their presence transformed university campuses, encouraging a culture that embraced cultural diversity and cosmopolitan values. The University of Melbourne's lecture halls and laboratories provided a relaxed atmosphere for Australian and Asian students to form friendships and exchange views. The 1956 Olympic Games in Melbourne also fostered the welcome of international visitors to Australia, and stressed the importance of social interactions across national boundaries.

The University of Melbourne appointed a Warden of Overseas Students in 1950 to address reports that Asian students could feel isolated and experience discrimination in the wider community. After an extended period of fundraising, International House opened in 1957 to provide residential accommodation for international and Australian students. On the campus, student organisations such as the Australia-Indonesia Association, or Volunteer Graduates Abroad, hosted international students and supported student delegations to Indonesia.

The University curriculum reflected Australia's increasing economic, political and cultural relations with the Asian-Pacific region. The influential Professor of Political Science, W. Macmahon Ball, and Norman Harper, Lecturer in American History, incorporated studies of Asian politics and geography into their courses. In the Faculty of Law, Hans Leyser introduced the teaching of Indonesian customary law. The University also appointed an Indonesian diplomat, Zainu'ddin, to teach Indonesian and Malay Studies.

The combination of government and University support for Asian students, teaching and student-led programs that promoted Australia-Asian social exchange, were to have an impact on many Australian students. As Howard Nathan QC, and subsequently Supreme Court Justice, recalled about his student experience: "It all fell apart — the old conservative ideas — in this environment that was free and progressive, and wildly stimulating."

White Australia policy
In this climate of change, the continuation of Australia's policy of immigration restriction was a focus for campus activism and student politics. Objections accelerated after 1955, the year the first group of Colombo Plan students graduated and were compelled by the conditions of their temporary visas to return to their home countries.

Across Australia universities' student representative councils conducted referenda to determine how students felt about Asian immigration into Australia. At the University of Melbourne, 77 per cent of students were opposed to immigration restriction based on a 'colour bar', and 88 per cent favoured a uniform application of immigration policy regardless of race.

This consensus that the White Australia Policy was no longer acceptable was to energise a group of Melbourne graduates and staff, including Jamie Mackie, who taught Indonesian and Malayan Studies and Sir James Gobbo, later Governor of Victoria. In 1959, they formed the Immigration Reform Group. They produced a highly influential pamphlet: Control or Colour Bar? A Proposal for Change in the Australian Immigration System, which became an unexpected best-seller and was read avidly by those in government, politics and the public service. It is now regarded as a key intervention in public debate over immigration in Australia, and as contributing to the dismantling of the White Australia Policy.

In the pamphlet, and the more substantial academic book that followed, the Immigration Reform Group argued that the White Australia Policy was out of step with contemporary Australian attitudes and the immigration policies of comparative nations. In presenting this compelling case, the authors drew upon the their first-hand experiences of working alongside Asian students at the University of Melbourne.

*Ismail bin Abdul Rahman was Deputy Prime Minister of Malaysia from September, 1970–August, 1973. He was awarded an LL.D. (Honoris Causa) by the University of Melbourne in March, 1973.
For further reading, see Kate Darian-Smith and James Waghorne, Australian-Asian Sociability, Student Activism, and the University Challenge to White Australia in the 1950s, Australian Journal of Politics and History, vol. 62, no. 2, 2016.
In 2013, a Witness Seminar was convened with key participants in the events in the 1950s. Extracts can be viewed here.
Banner Image: Students at Orientation Week. Picture: University of Melbourne